Information to visit
Rimini Amusement Show is the reference show for the operators of the world of amusements. It is a key event enhancing all the novelties and the excellence in the field of entertainment with no cash winnings for all ages. Children, teenagers, adults and the family: a diverse and multifaceted world ranging from traditional
attractions (from swing rides to inflatables, from pinball to foosball) to the most incredible and futuristic ones involving virtual reality, laser games and e-sports.
The show is held from 16th to 18th October 2018, simultaneously with Enada Roma.
Venue: Roma Exhibition Centre
Via A. G. Eiffel traversa Via Portuense
00148 Rome, (ITALY)
Ticket
The entrance ticket costs is € 25
Reduced Tickets: € 5
For further information:
Help Desk
en.riminiamusement.it/helpdeskticket

Ticket Assistance
For further information please phone to +39 0541 744555 from Monday to Friday, from 8.30 am to 1 pm and from 2.30 pm to 5.30 pm.
How to reach us
The main entrance to Fiera di Roma will be the East door, Via Portuense 1645/1647 - 00148 Roma.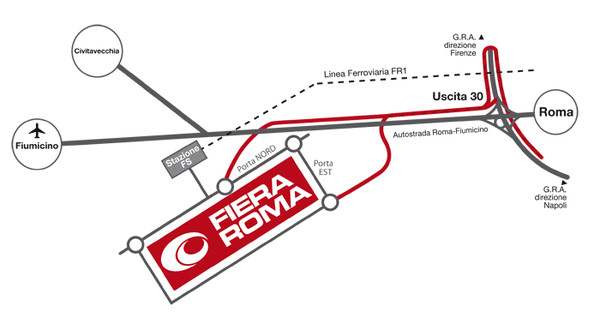 By plane
For those arriving by plane at Fiumicino airport (approximately 5 kilometres from the new expo centre), there are three possibilities: car hire, train or bus.
By car: taking the motorway for Roma Centro, after approximately 5 km, there are signs on the right indicating the turn-off for Fiera di Roma which, turning back in the opposite direction, takes drivers on to the road on the same level arriving from Rome, which leads directly to Via Eiffel.
The alternative is to take the road to Fiumicino and at the Fiumicino-Nord turn-off, take Via Portuense towards Rome. At Via Portuense 1555, turn on to Via Eiffel.
By train: take the Fr1 Line (Fiumicino-Settebagni) towards Roma and get off at Fiera di Roma station.
By bus: during trade fairs, the new expo centre can be reached using the bus route running from the terminus at the domestic flight arrival terminal at Fiumicino airport and from Rome Magliana.
By car
From the Grande Raccordo Anulare (Rome´s ring road), take turn-off 30 for Fiumicino, then follow indications for Fiera di Roma.
By train
From Rome Tuscolana, Tiburtina and Ostiense stations, connected with Metropolitana (underground) Lines A and B, take Line Fr1 for Fiumicino and get off at Fiera di Roma station.